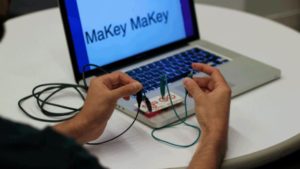 Teaching technology, such as circuitry, electricity, basic programming to kids in the classroom, prepares them for the future.  Thanks to MaKey Makey, a simple and entertaining invention kit that makes the circuitry process second nature, young children are able to think through the process, program and obtain the results they set forth.
Technology in education serves a myriad of purposes, and embracing technology in modern classrooms can enhance the student experience in several subject areas, especially in Science, Technology, Engineering and Math (STEM). It can encourage students to develop passions for future careers, and aid in their present understandings of concepts in school.
Students that are actively engaged in learning will be receptive to classroom environments where exploration through technology is fostered. The first steps in finding the right technology to integrate into schools begins with determining the needs of the students, the relevance to the curriculum, and the ease of access to schools.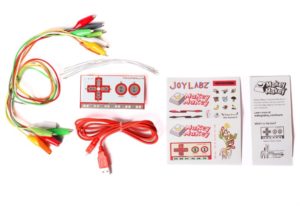 One of the easiest and most affordable technologies that teachers can integrate into learning is the MaKey MaKey circuit board. The MaKey MaKey is effective in helping teachers to relate concepts about electricity, circuits, basic programming, and cause and effect to students of all ages and learning abilities.
MaKey MaKey gives teachers and students the freedom to use their circuitry and programming skills to create anything, from a working piano made of fruit, to a video game controller that students are able to completely customize themselves.
Pairing the hardware of the MaKey MaKey board with programs like Scratch makes these and other projects not only possible, but easy to carry out. Additionally, similar circuit boards, such as Arduinos, may be used to complete more advanced projects. Both MaKey MaKeys and Arduinos are available for purchase through Plaz Tech Educational.
---
Thinking of How MaKey MaKey Can Be Implemented Into Your Classroom?
Below is a simple project that you and your students can complete together to kick off their journey of becoming technologically proficient. In this project, students are able to learn the basics of the MaKey MaKey, along with practicing making and testing hypotheses about the conductivity of certain materials and objects through scientific processes.
The MaKey MaKey board comes ready-to-use for simple projects, and can be re-mapped to accommodate any project your students can think of. For this project, you will only need the MaKey MaKey Classic along with a few other basic supplies.
LEARNING OBJECTIVE:  CONDUCTIVITY BASICS AND PRACTICE
Time Needed: 45 – 60 minutes
Materials Needed:
Computer
Items for testing:

Plastic cups
Paper clips
Rubber bands
No. 2 pencils
Play-Doh
Aluminum foil
Metal utensils
Fruit (bananas work well)
Documentation:
Develop a plan based on the "scientific method."  With your students,
Observe and formulate a theory.
Invent a tentative description, or hypothesis.
Use the hypothesis to make predictions.
Test those predictions by experiments or further observations and modify the hypothesis in the light of the results.
Repeat steps 3 and 4 until there are no discrepancies between theory and experiment and/or observation.
Set Up: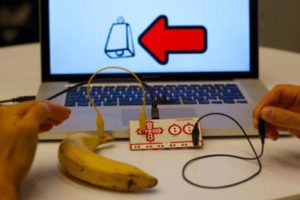 Set up the Makey Makey with your students' help,  by connecting the MaKey MaKey board to your computer using the USB plug included in the kit. Next, connect one of the provided alligator clips to the bottom EARTH section on the board. Once this clip is connected, attach another alligator clip to any of the arrow key connections on the board. When holding onto the opposite end of the clip attached to EARTH, a red LED should flash on the board every time the end of the second alligator clip comes in contact with a conductive surface.
Procedures: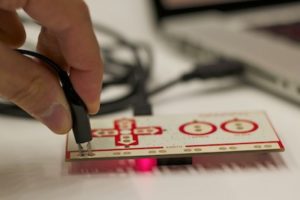 Once the MaKey MaKey is set up, students are able to make predictions about which objects in the classroom are conductive, and are then able to test their predictions using the circuit board. Instructors should express the objectives of the lessons to the students and model the procedures and movements.  Record successful as well as unsuccessful experiments.
---
For more information about MaKey MaKey, its implementation or teacher-focused workshops, please contact us by phone at 770.284.0709 or by email.
Plaz Tech is a Georgia-based education start-up, focusing on training, lesson plan development, and consulting that brings together real world technology and tools to real classrooms. Combining education and industry experience, Plaz Tech focuses on student and educator outcomes that have a lasting impact in our world.