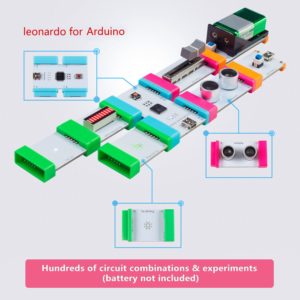 EC-Block (Leonardo for Arduino) is a "plug and play" electronic building block STEM starter kit by SunFounder available through Plaz Tech Educational. This product was designed as 'easy-to-use, no wiring required,' so as to encourage younger learners and hobbyists to dive into the field of open source electronics.
Just as with any type of building blocks, EC-Blocks (Leonardo for Arduino) can connect with each other. Each building block has a built-in circuit. Available blocks can be categorized into power supplies, sensors, converters, and outputs by their functions. Each type of building block is denoted by a particular color. The name of each block starts with a mark that represents each block's type and function, so it can be easily recognized by its name. Designed for high flexibility, the blocks can be connected together regardless of number or type.
All the building blocks in this kit are based on analog values, which means they can output different values or make different reactions.
For higher flexibility and more fun circuit combinations, Arduino-based blocks can be used with the with the kit as well.
The EC-Block kit contains 14 modules, instructions, connection tutorial, and projects and it is priced at $58.99. 9V battery not included.
Click HERE to order the EC-Block Kit now.
---
Prices and availability subject to change without notice.
Plaz Tech is a Georgia-based education start-up, focusing on training, lesson plan development, and consulting that brings together real world technology and tools to real classrooms. Combining education and industry experience, Plaz Tech focuses on student and educator outcomes that have a lasting impact in our world.